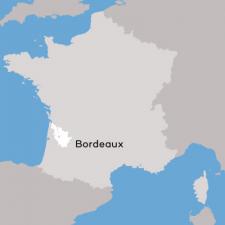 In France, there are over 200 indigenous wine varieties–from the well-known Chardonnay and Cabernet Sauvignon to the lesser-known Prunelard and Savagnin. Moreover, there are 307 appellations and each can allow for several different types of wine (red, rosé, sparkling, etc.). When you put it all into perspective, France delivers approximately 2,900 different wines, not taking into account the many thousands of wineries.
If you drank a new wine each night, it would take 8 years to drink your way through France.
Bordeaux is one of the 11 wine regions of France and also one of Stephanie's favorite regions. Within Bordeaux there are 60 appellations, giving Bordeaux more appellations than any other wine region in France as well as in all of Europe. Both red and white wines are produced in Bordeaux and most wines coming from Bordeaux are blends. Stephanie has selected wines that show great examples of wines produced in this region.
Wine List
Château Lagrugere White Bordeuax Sauvignon Blanc/Semillon
Château Lagrugere Rosé Cabernet Sauvignon/Merlot
Château Lagrugere Red Bordeaux Cabernet Sauvignon/Merlot
Château Relais de la Poste Malbec
Château Maison Neuve Fifty Shades of Cabernet Sauvignon