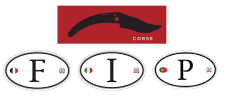 Locations Wine is a project of Dave Phinney, owner and winemaker of Orin Swift Cellars. He is also the developer of Prisoner Wines. The concept behind Locations is wine blending is done within an appellation, not across appellations. Phinney's concept is to find the best fruit within a country, state or province and blend to create a wine that expresses that location. These wines not only represent areas were you normally would not see blends produced but also grape combinations that are truly unique resulting in fantastic wines. Stephanie will be take you on a tour of Locations Wines which we know will impress you.
Wine List
P - Portugal:

A blend of Touriga Nacional, Trincadeira, and Touriga Franca sourced primarily from the northern region of Douro, with the remainder coming from the Alentejo region to the south.

I - Italy:

Powerful and rich fruit from Puglia (Torricella and Manduria) serves as the base with a lively vein of acidity from Barbera (Alba) that stabilizes things in just the right way.

Corse - Corsica:

A discrete place with it's own distinct personality, the intent was to showcase Vermentino in it's purest form while remaining true to the Locations concept. Arguably one of the most underrated wine regions in the world, grapes were sourced from vineyards of steep, hillside slopes comprised of granite and red clay soils.

F4 - France Red:

 incorporated some of the best regions in France, drawing upon a network of growers from Rhone, Roussillon, and Bordeaux.
F5 - France Rosé: The fruit for this wine is from a vineyard in the south of France and is 100% Grenache. Sourced from vineyard blocks that cling to granite, these 50-year-old dry farmed vines produce very low yields of perfectly concentrated fruit.